WHAT OUR CUSTOMERS SAY
PERFECT DURIANS!!

First time buying whole frozen durian online and won't be the last time. Our durian was to die for and the whole ordering process was so easy.

Ngoc L
Top quality produce, prompt & friendly, accommodates special requests & shares deep knowledge of tropical fruits. Never in my wildest dreams did I imagine finding fresh Aussie grown durian & cempedak!

Madeline L
As a busy mum of two, working full time, it's been so convenient and easy for me to use the TFC website to order all the fruits and veg I don't have time going to asian grocery stores hunting or markets to source myself.

Michelle Y
Purchased the durians, the quality is thumb up! I would recommend you to try out their Musang King.

Chin S.
Great on time service. Great in sourcing. Quick response.

Deb C.
First time ordering from here. Very impressed with quality of produce and service!

Lisa N.
ABSOLUTELY FANTASTIC!!

Zona and team are just simply the best! Top customer service and all the products I bought were in high quality!! Absolutely brilliant! THANK YOU ZONA!!!

Wendy T
Easy transaction and on time delivery! I love how convenient i can get fruits especially those that are rare to find in a fruit market. Been looking for langsat/lansones everywhere but i only found it here. Thank you thorny fruit for sourcing this fruit. Brings the whole experience back to my home land The Philippines.

Bianca D.
The Thorny Fruit Co has been amazing with delivering exceptionally fresh produce. This service has saved me a lot of time and I'm very grateful that I don't have to lug my kids in and out of the car just so that I can get to an Asian grocery store.

Jessie G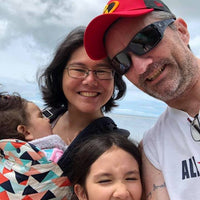 About Your Personal Shopper
hi, I'm Zona - your Concierge Manager and Founder of The Thorny Fruit Co. I'm a mum of two girls, a wife to a Sydney artist geek; I am an incurable foodie, and a professional digital marketer.
The Thorny Fruit Co is where you can tell me what tropical produce you need, and I will hunt it down for you. Whether its durians, petai, mangosteens, kencur/cekur, etc... if it's grown in Australia, I will source it for you.
Read More