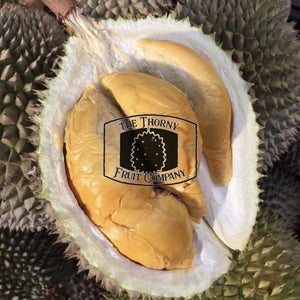 NOT AVAILABLE for June/July 2020 season.
Please read our Returns Policy before purchasing.
Red Prawn. Udang Merah. Ang Heh. D175. With a dense pulp, the Red Prawn has a creamy sweet, soft yet thick yellowy flesh. More pungent in flavour, this classic Malaysian favourite will also leave you with a irresistibly pleasant bitter aftertaste.
NOTE: This particular variety does not have the usual tinge of red on its flesh because it's from a farm in south of Malaysia.
Each 10kg box of Red Prawn may contain approx 5 to 7 frozen whole fruit imported from Malaysia, and will be in the process of defrosting/thawing at the time of delivery/pickup.

4kg TWIN PACK $108
Frozen imported durian, will be thawing out at the time of delivery/pick-up
10kg BULK BOX $230
Approximate 5 to 7 pieces in each 10kg box

Frozen imported durian, will be thawing out at the time of delivery/pick-up
No VIP discount due to low margin
Product of Malaysia. Available for Sydney metro pickups or home delivery only.

}