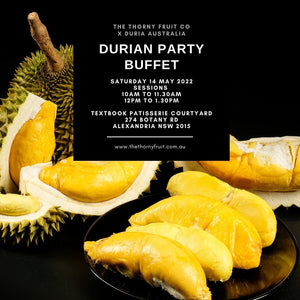 📅 DATE: Saturday 14th May 2022
⏰ TIME:
* 1st Session 10.00am to 11.30am
* 2nd Session 12pm to 1.30pm

📍 LOCATION: Textbook Patisserie courtyard, 274 Botany Rd, Alexandria NSW 2015 https://g.page/textbookpatisserie
*** TICKET REQUIRED ***
Here it is Thorny lovers - our very first durian party buffet thanks to our partner, Duria Australia! 😱😱😱 It's 90 min "ALL YOU CAN EAT" durian feast.
We'll be opening up Malaysian D13, D101 and D24 durians by the truckload for you to sit down and feast. With every ticket, you'll be provided access to the durian buffet spread, a goodie bag with durian treats from Duria Australia, a refreshing fresh coconut juice, and you'll get a taste of the awesome new Musang King ice-cream.
If you love Textbook Patisserie's durian croissant, we're bringing them back for this event by pre-order only! Their barista will also be on-hand for you to pay-to-order fresh hot drinks throughout the day.
Don't miss out! We have very limited spots per session.
THE TICKET
PRICE: $88 per person (Adult 16 years +)
*Child under 15 free with every paying adult
Ticket inclusions:
* Access to an unlimited buffet spread of Malaysian D13, D101 and D24 durians. All you can eat durians for 90 mins!
* 1 x Musang King 3D ice-cream stick
* 1 x fresh coconut juice
* 1 x Duria Australia gift bag 

THE ADD ONS
Pre order these items along with your buffet ticket session to eat on the day, or take home! Select the item you want, then add to cart.
* No deliveries will be made for these products. Strictly PICK-UP at event only!
* $16 Durian Croissant - Pre-order Textbook Patisserie's famous Durian Croissant filled with real D24 durian flesh! Select [PICK-UP ONLY] if you're not attending the buffet. Only limited to the first 200 orders.
* $20 Duria D24 Premium Durian Gelato jar - usually RRP$28 each, pre-order your durian gelato to enjoy at your buffet session.
 

HOW TO ORDER

1. First, select the ticket session you want to attend and the quantity of tickets. Click "Add to Cart". You'll be taken to the shopping cart page. Check out if you're happy with your selection.

2. If you want to include ADD ONS like the durian croissant, come back to this product page, then select the durian croissant and quantity. Click "Add to Cart". You need to make sure you have at least 1 session ticket worth $88, and the croissant or gelato ADD ON in your shopping cart.

3. If you're happy with your selection, continue to check-out and pay with credit card or bank transfer.

4. You will receive an email invoice. THIS INVOICE WITH THE ORDER NUMBER TFC#xxxx WILL BE YOUR TICKET. You will be required to show proof of this email on arrival. If you did not receive this email, please check your spam/junk. If you still did not receive it - email us shop@thethornyfruit.com.au

5. Please arrive at Textbook Patisserie's courtyard (not street entrance) at least 15 mins before your session starts to register. Show us your order email and you'll receive your wristband to enter.

***


Follow us on Facebook or Instagram for updates.

www.facebook.com/thethornyfruitco

www.instagram.com/thethornyfruitco

*** 

}