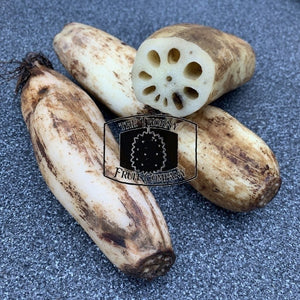 Season is usually during autumn-winter.
Lotus root or the rhizomes of the Nelumbo nucifera plant are is commonly consumed as a fresh vegetable in China, Japan, and across Asia. These fresh lotus roots are grown in Casino, NSW, and are usually in season through the Australian autumn-winter season.
NOTE: You will receive your lotus root, fresh, wet and muddy!
A whole lotus root usually has 3 to 5 connected tubers, similar to sausage links. Each segment can be about 10-20cm (4-8 inches) long, and 5-10cm wide.
Lotus roots can be stir fried, boiled in soups, braised, pickled in vinegar with sugar, chilli and garlic, deep fried, stuffed, or made into chips. Lotus rhizomes usually have a crisp, crunchy texture with potato-like mild sweet flavour. Once cooked, has a starchy texture. In Sri Lankan cuisine, lotus roots are cooked in coconut milk.
Preparation
The lotus root you'll receive will be dirty. Ensure that you wash them carefully and remove all traces of mud. You may need a brush to scrub the mud off.
Slice off the ends, peel the rind and discard them. Wash the insides throughly with cold tap water. 
Ways to Cut & Recipes to Try

}